The Grand Kankakee Wetlands were founded by God in pre-history. The Grand Kankakee Wetlanders Baseball Club was founded in 2014 AD. Their names and stories are intertwined.
God, undisputed champion of the universe, created the million-acre wetlands, whose major river, the Kankakee, begins in what has recently been called South Bend, to provide a haven for millions of migrating birds, incredible plant diversity, and views that renaissance man and author Lew Wallace called "the most beautiful on earth."
The Grand Kankakee Wetlanders, twice undisputed champion and current reigning champion of the Sappy Moffit Baseball League, full of some of the most beautiful renaissance men on earth, seek to recover and promote the restoration of our region's wetlands, by hitting, fielding, and catching with such excellence, that birds will be roused to procreate madly, plants will photosynthesize with the light from our flashy play, and authors will recover beauty as an inspiration.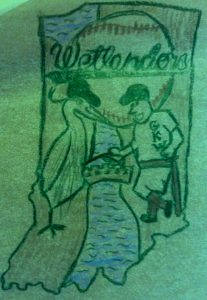 The original Wetlanders logo concept, circa 2014 AD