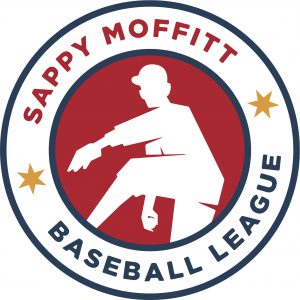 The Sappy Moffitt Baseball League was named for Elmer "Sappy" Moffitt, a Northern Indiana baseball legend. Moffitt was born on March 18, 1878 in New Carlisle, IN.
According to John Kovach's article in the South Bend Tribune,
As a young man, [Moffitt] became quite well-known on the St. Joseph County baseball diamonds for his pitching skills. That reputation earned him an opportunity to play minor league baseball, beginning in 1903 with the South Bend Greenstockings of the newly formed Central League. Moffitt anchored the pitching staff for South Bend through the 1906 season. During his first four seasons, Elmer hit the 20-win mark three times with 21 victories in 1903, 20 wins in 1904 and 21 again in 1905. He would narrowly miss a fourth time, finishing with 18 wins in 1906. Moffitt also was stingy with runs. In 1,091 innings pitched between 1903 and 1906, he allowed only 185 tallies. In each of those four seasons, he pitched more than 250 innings, with a high of more than 306 innings pitched in 1904. The 1904 season was also his best season for strikeouts (233). Most impressive that season, however, was the fact that Moffitt started 34 games that season and completed every one of them.
Now, 140 years after Moffitt's birth, the league stands as a testament to the rich baseball tradition of this area.
Play ball!