Memorializing the history of baseball in South Bend……re-creating the charm of American centuries past.
Dear Foundation Partner,
Foundry Field, Home of the Giants is so much more than a baseball diamond. This brand new "vintage-style" ball field at Southeast Park in South Bend will contribute to neighborhood revitalization and be utilized by underserved neighborhood youth while memorializing the history of baseball in South Bend. The field will be a uniquely beautiful, hand-crafted facility with the charm of American centuries past.
Through a public-private partnership with the City of South Bend, the field will be privately financed but publicly held. The Field Foundation is proud to be leading this effort in collaboration with many community partners, and humbled to have your support! Thank you for pledging a financial contribution, in-kind donation, and/or corporate sponsorship. Whether you are a baseball fan, a neighbor that believes in investing in community betterment, or someone who understands the value for children to play on a truly inspired field, we look forward to having you on board for this exciting and unique project.
In Gratitude,
Matthew Insley
Chair, Sappy Moffitt Field Foundation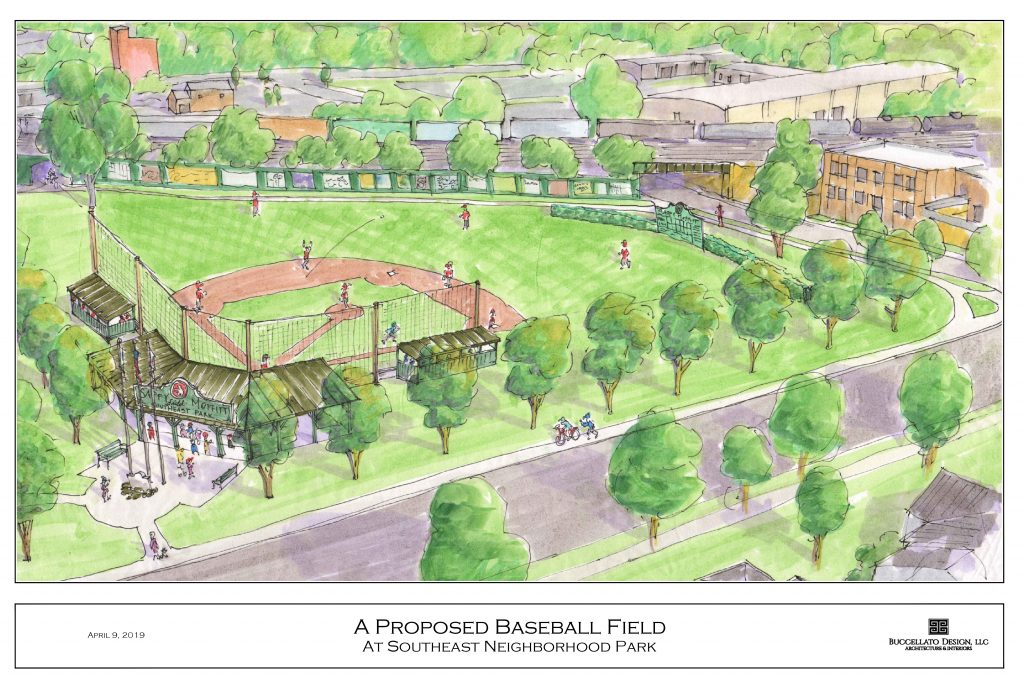 The Vision
"I'm inspired to leave a legacy of baseball, ignite a flame of love for this past time within kids in the city, and give people opportunities to share baseball in a unique way with their fathers and sons, mothers and daughters." ~Ryan Dainty, Sappy Moffitt Field Foundation
Youth Baseball in the Urban Core
In partnership with the Boys and Girls Club, South Bend Schools, and other local organizations, this new field will primarily host baseball leagues and clinics for South Bend youth from the urban core. There is currently no quality, public-use field in inner city South Bend.
Neighborhood Revitalization
Beautiful parks and amenities build neighborhoods and bring people together. This uniquely designed and beautifully constructed field will be another step forward in the renewal of Southeast Neighborhood.
A Quality Public Resource
Our city is only as vibrant as we make it. This public facility, owned and maintained by South Bend Venues, Parks & Arts, will be available for all to use — youth and adults — and improve the quality of life in South Bend.
Public Art and Local History
Murals by local and national artists will adorn the left field wall and, along with plaques and storyboards, that will tell the story of baseball in South Bend. Wood and brick construction with vintage elements will evoke ballfields of the past. The vision is for this facility to become a "living museum" that will teach and preserve part of our past for future generations.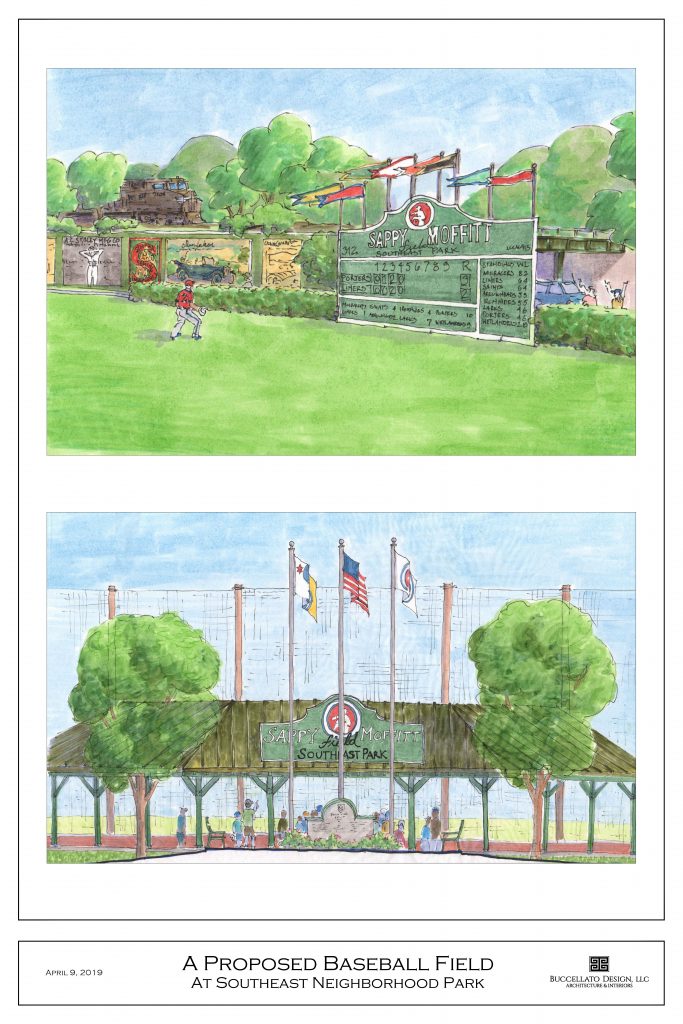 Pledging Your Support
This campaign presents you with the opportunity to take part in a community project to build a baseball field that will be a uniquely beautiful, handcrafted public facility with the charm of American centuries past. Thank you for your generosity and for your support of the Foundry Field Campaign!
How often do you get a chance to be part of something bigger than yourself? Contribute to your community? This is a unique opportunity that I'm grateful to have. ~Michael Hebbeler, Sappy Moffit Field Foundation
Make a Financial Gift
Thank you for joining the effort with a monetary pledge toward the total Phase 1 project cost of $145,000. As a donor of $500 or more, you will be eligible to have your name inscribed on a special plaque displayed at Foundry Field. Gifts may be pledged over a one-year period and all contributions are tax-deductible to the amount provided by law.
Examples of Three-Year Gift Payment Schedule
| | | | |
| --- | --- | --- | --- |
| Total Commitment | Annually | Quarterly | Monthly |
| $10,000 | $3,334 | $834 | $278 |
| $5,000 | $1,667 | $417 | $139 |
| $2,500 | $834 | $209 | $70 |
| $1,000 | $334 | $83 | $28 |
| $500 | $167 | $42 | $14 |
Giving Societies
Hall of Fame Guild: $10,000 and more
MVP Society: $5,000 – $9,999
All Star Club: $2,500 – $4,999
Gold Glove Circle: $1,000 – $2,499
Silver Slugger Circle: $500 – $999
Big League Fellowship: $50 – $499

Current Campaign Honor Roll

The Foundry Field Campaign also provides an opportunity to acknowledge our benefactors and to remember and honor loved ones, living or deceased, through naming opportunities or commemorative gifts. Please contact Matthew Insley at sappysappymoffittbaseball@gmail.com should you wish to explore a special gift opportunity.
---
---
Arrange an In-Kind Donation
We will gladly accept in-kind donations of construction materials. We are seeking donations for the brick backstop, the pavilion, and the dugout construction.

We are also seeking donations of skilled labor. Masons, carpenters, general construction workers, and painter/artists are all needed for the project. We would welcome your donation of expertise and labor!
Become a Corporate Sponsor
If your business would like to be involved as a corporate sponsor we would be glad to talk to you about the project. Please email sckennedy5@gmail.com to be in touch with our financial campaign team. All corporate sponsors will have their logo included in a corporate donor plaque at the entrance to the field.
For questions or to discuss the details of your commitment or other sponsorship or in-kind opportunities, please contact Matthew Insley at sappymoffittbaseball@gmail.com.
Project Phases Overview
Phase I – $145,000
Excavation, field leveling, seeding, fencing and netting, and installation of irrigation system.
Phase II – $250,000-450,000
Public art and murals.
Phase III – $150,000-250,000
Construction of grandstand spectator seating, dugouts, score booth & PA system, public pavilion, and additional landscaping and decorative elements.
Our Heritage & Identity
Studebaker, Singer, Oliver, Bendix…these names are part of the legacy handed on to us from the greatness of South Bend past. Alongside the historical industrial prowess of a booming hometown lingered one of America's great past times — baseball.
"Elmer "Sappy" Moffitt, born in nearby New Carlisle, is arguably the greatest pitcher in South Bend professional baseball history: the all-time leader in innings pitched, strikeouts, and wins. He pitched seven seasons for the South Bend Green Stockings in the early 20th century.
This field is named after him because he stands as a shining example of the history of baseball in this community and the role it can still play in a vibrant civic life. This vintage, historical park will feature markers telling the stories of the teams and players that make up the memorable history of baseball in South Bend.
Getting To Where We Are Today
The Sappy Moffitt Baseball League was founded in South Bend in the summer of 2013. The adult wood bat league was originally formed with just two teams — the South Shore Liners and the Monroe Park Millracers, each name having a local, historical significance.
As word spread and interest grew, this casual Sunday afternoon summer league blossomed. By 2020, the league grew to eight teams: the Holy Cross Saints, the Studebaker Larks, the Lowell Porters, the Du Lac Rockets, the Battell Ironhides, and the Ottowa Arrowheads.
With the growth of the league, there grew a desire for a family-friendly baseball facility with access to amenities such as shade, restrooms, and playgrounds. In harmony with the league's appreciation of and tributes to local history, aspirations evolved to develop a new vintage-style field at Southeast Park in urban South Bend, a field that could be shared with the local youth and families in hopes of inspiring and passing on this great past time.
"Our league brings people together; this project will continue that in new, expanded ways." ~Josh Kaiser, Sappy Moffit Baseball League
---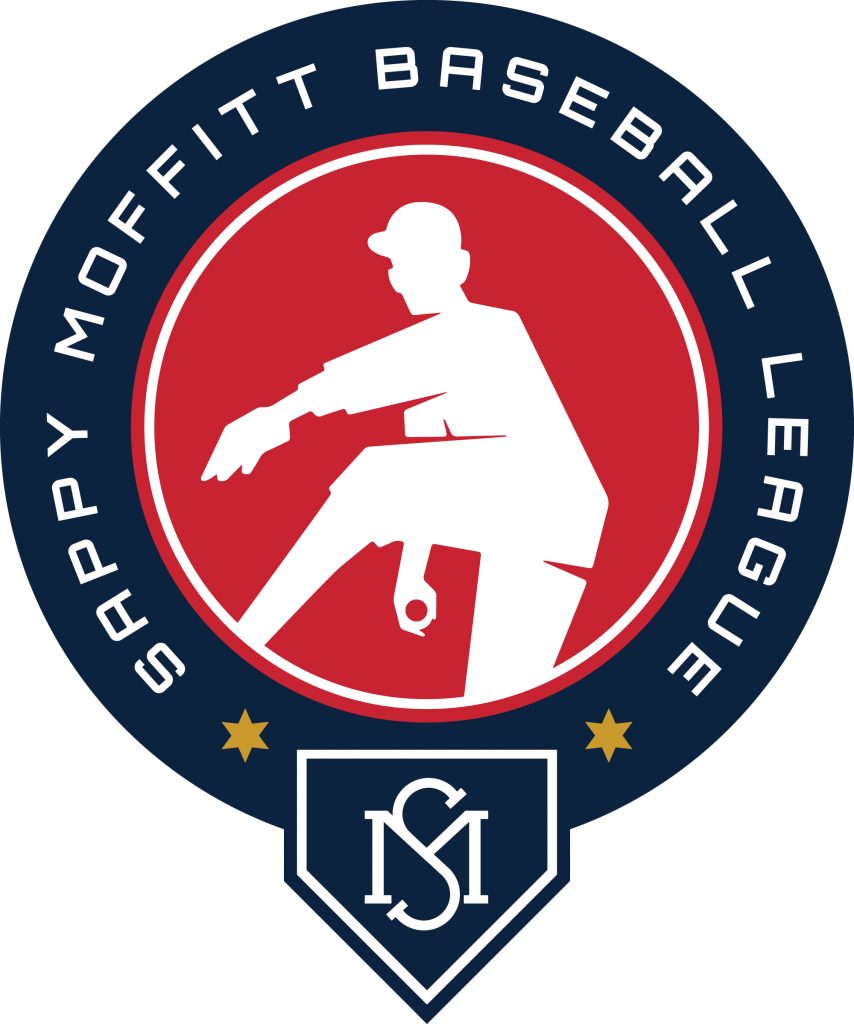 Sappy Moffitt Field Foundation
The Sappy Moffitt Field Foundation, Inc., is a 501c3 non-profit organization that seeks to build a high-quality baseball field at Southeast Park to aid the revitalization of the Southeast Neighborhood, preserve and promote the history of baseball in South Bend, and serve the youth of neighborhood communities by making the facility available to them. All contributions are tax deductible.
Board Members

Matthew Insley, Chair
Sean Kennedy, Vice-Chair
Rev. Kevin Russeau, CSC, Treasurer
Jeff Zwart, Secretary
Michael Hebbeler
Kevin Buccellato
Clinton Carlson
Caesar Montevecchio